Lithium Battery Rail Bolt Impact Wrench for Railway Maintenance
SKU#: 570
Lithium Battery Bolt Wrench Machine
LLB-500 lithium battery bolt wrench machine is a new product developed by, our company in accordance with international requirements for environmental protection. Using lithium battery as energy source, low-voltage and high-current DC motor as power, it has the characteristics of small size and high power. It is suitable for the tightening operation of ordinary sleeper vertical bolts, turnout sleeper vertical bolts, and high-speed railway sleeper plate vertical bolts. Design and insall bolt torque display mechanism and torque adjustment mechanism in the middle of the machine. More than 500 bolts can be tightened with one charge, and it can work continuously for 3 hours. The machine has no pollution to the environment and railway lines, low noise, large torque, small size, light weight, convenient up and down, fast tightening bolts, simple operation, and no harm to the health of the operators.
 

 

 

 

 

 

 

 

 

 

Tighten and loosen torque range

 

 

 

 

Motor no-load revolutions

 

 

 

 

 

 

 

 

Tightening torque adjustment range

 

80, 120, 150, 200, 250, 300, 350 N.m

 

Tightening torque accuracy

 

 

 

 

 

 
Wooden box , export standard
Xiangyang Lianjie Mechanical&Electrical Co.,Ltd.
Xiangyang Lianjie Mechanical&Electrical Co.,Ltd. Established in 2013,specialized in designing and manufacturing of the geometry measurement systems for the railway,including digital track gauges,mechanical gauge,rail wear gauge,turnout measurement gauges ect. Our products are China Railway Construction Corporation Limited (CRCC) approved.The products are used by CRCC for all their rail operation. Besides, our products are also being used by major rail operators in America, Australia, Europe and the ASEAN countries.The bitterness of poor quality remains long after the sweetness of low price is forgotten. Our mission is to manufacture high quality rail measurement instruments at a competitive price with reliable services to our clients in order to help them to maintain & operate a safe railway system.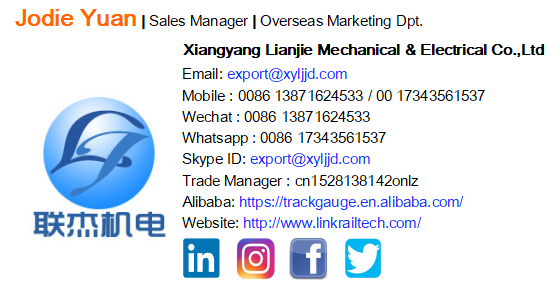 More Information

| | |
| --- | --- |
| Is this product buy America compliant? | No |
| Brand | Lianjie |
Do you want to sell in our platform?
---
Compare Products
You have no items to compare.
We can't find products matching the selection.