Automatic Remote Control Hydraulic Railway Tamping Machine for Sale
SKU#: 672
YD-22III Smart rail tamping machine
YD-22III Smart rail tamping machine unit is a renewal product developed by our factory with new material and new technology. It has collected the tamping experience of users at home and abroad. It can do tamping works not only on the ballasted track of concrete sleeper type II and III in China, but also on various kindsof concrete sleepers and steel sleepers in foreign countries.This machine is suitable for tamping operation of different types of rails and concrete sleeper line after large and medium repair and sieving operations, and also suitable for tamping operation of ballast on newly built track bed. The equipment has superior performance, reasonable structure, safety and reliability, and high working efficiency. It fully meets the needs of railway ballast tamping operation
1. The chassis of tamping unit is equipped with walking device and electronic control device (electric engine and remote control will control each function of the equipment). The equipment realizes the characteristics of automatic walking ad remote control, which greatly improves the working efficiency and comfort, it also can reduce the labor intensity. 2. Protective nets are installed on both sides of tamping unit to ensure the safety of workers and the stability of tamping operation. And also, it has the front and rear lights which can provide better lighting when working at night.
 

 

 

 

Dimensions (L x W x H) (mm)

 

 

 

 

 

4-Stroke Gasoline engine; Power 10.5kW*2; R.P.M: 3600 r / min

 

Hydraulic system working pressure

 

 

 

 

 

 

 

 

 

90-110mm ( under the sleeper)

 

 

 

 

≥ 300 pieces / (unit. hour)

 

Walking frame track gauge

 

1435mm (adjustments can be made according to customer requirement)

 

 

 
Export Standard Wooden Box
Xiangyang Lianjie Mechanical&Electrical Co.,Ltd.
Xiangyang Lianjie Mechanical&Electrical Co.,Ltd. Established in 2013,specialized in designing and manufacturing of the geometry measurement systems for the railway,including digital track gauges,mechanical gauge,rail wear gauge,turnout measurement gauges ect. Our products are China Railway Construction Corporation Limited (CRCC) approved.The products are used by CRCC for all their rail operation. Besides, our products are also being used by major rail operators in America, Australia, Europe and the ASEAN countries.The bitterness of poor quality remains long after the sweetness of low price is forgotten. Our mission is to manufacture high quality rail measurement instruments at a competitive price with reliable services to our clients in order to help them to maintain & operate a safe railway system.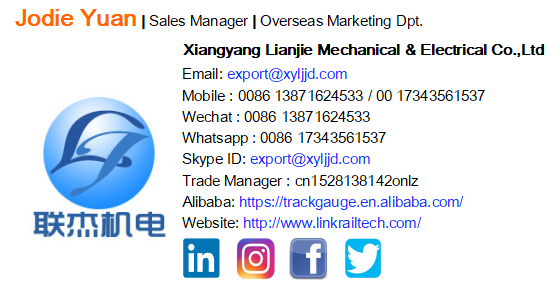 More Information

| | |
| --- | --- |
| Is this product buy America compliant? | No |
| Brand | Lianjie |
Do you want to sell in our platform?
---
Compare Products
You have no items to compare.
We can't find products matching the selection.